Welcome to Danielle's Dog Grooming Studio
Gentle Care ~ Certified Master Groomer ~ Stress-Free Environment
Danielle's Studio provides full service, professional dog grooming by an IPG, ISCC Certified Master Groomer. All grooming is scheduled one pet at a time, with that time slot reserved exclusively for your pup. This ensures that your dog will receive Danielle's personal care and undivided attention. A full consultation ensures that your wishes will be understood.
​
Take a few moments and browse through our website. Every dog shown here has been groomed by Danielle. "I guarantee that your pooch will be happy and look great, and that you will love the friendly service!"


​Tel: 604-996-1213
​We are accepting new clients on a limited basis only. We accept dogs who are under 20 pounds and are regularly maintained. Any pet we have not seen for more than six months is considered new.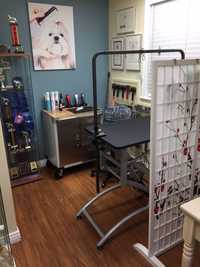 All inclusive grooming:
Nails, ears, bath, haircut
Premium, spa quality shampoos and conditioners
Oxygen-infused bathing​​
All dogs hand dried and scissor finished.​
Turn around time of two hours or less (for most grooms)
​Seasonal bows, bandanas
​Aromatherapy spritz
---
​CERTIFIED MASTER PET STYLIST and much more...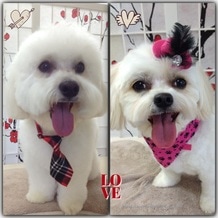 ​​​​​Certified Master Groomer IPG
​Certified Master Pet Stylist ISCC
Safety Certified Animal First-​Aid ​
Government Certified Academy Dog Trainer
Pet Massage Therapist
Pawspoint Reflexologist​​
Check out Danielle's full credentials ​ >>Meet The Groomer
​Read our >>Grooming REVIEWS!
---
PET PARENTS & HAPPY PETS
PET STYLING BY DANIELLE
BEFORE & AFTERS