Danielle's Grooming is a state-of-the-art, private studio nestled in a relaxed, country setting. Owner Danielle MacDonald is a Certified IPG, ISCC Master Groomer. Danielle combines quality grooming services with gentle handling of every dog. She will design a groom to fit your pup and your lifestyle. We guarantee that your dog will always leave happy and looking paws-itively fabulous!
​
​We Treat Every Dog with Gentle, Loving Care.
Appointments are scheduled one-pet-at-a-time. This ensures that your baby will always receive Danielle's undivided attention from start to finish. We are looking forward to serving you and your dog!
​
Award Winning Pet Grooming ~ 4x awarded Best Dog Grooming and Service Excellence.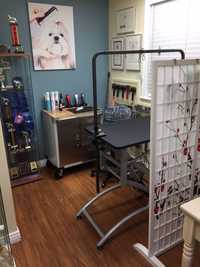 ​Nails, Ears, Bath, Haircut
Oxygen-infused hydro massage bathing
Premium quality products
​Dead Sea Spa Mud Treatments for dry skin.
​Nagayu CO2 Skin Therapy
Hand dry & scissor finish​​
Turn around time two hours
​Seasonal bows & bandanas
​​​Aromatherapy body spritz
More at Grooming Services
---
​A Certified Master Pet Stylist and more...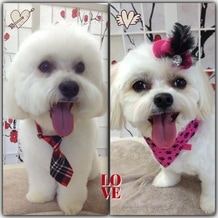 ​​​​​Master Groomer, Certified IPG
​Master Pet Stylist, Certified ISCC​
Certified Animal First-​Aid​
Animal Massage Therapist
Animal Reflexologist
Pet Care Columnist
Certified Academy Dog Trainer​
​
---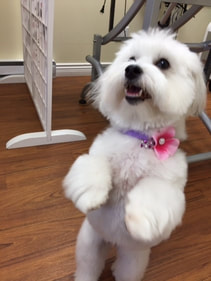 ​
We are accepting new clients who pre-book recurring appointments for their pets every 2-6 weeks.
​
Are We a Good Fit For You?​
Is your dog under fifteen pounds?
Is your pooch on a two to six week grooming schedule?
​Does your dog deserve the best in a fun, safe and loving grooming experience?​ ​​​​
---
Please Note: I am accepting new clients on a very limited basis at this time, due to our full schedule. This is to continue to provide my valued clients with the highest standards of grooming service, ​to provide one-at-a-time appointments and to accommodate the rescheduling needs of current clients.
Please phone and leave a message. Calls will be returned at the end of the business day.
​604-996-1213​
​​

WE OFFER DOGGY DAYCARE FOR SMALL DOGS
Special Offer! 25% off your first Doggy DayCare stay. Two to three small dogs per day limit. Call to inquire on availability.

PET PARENTS & HAPPY PETS
PET STYLING BY DANIELLE
BEFORE & AFTERS