Just as you would take time to research daycare centres for your children, you should also take the time to find out what kind of training, skills and knowledge your dog groomer has acquired.
Danielle belongs to an estimated 15% of dog groomers world wide, who have attained Master Groomer Certification.
​
CREDENTIALS
​Certified Master Groomer IPG
Certified Master Pet Stylist ISCC
Sunnyslope Dog Grooming School Diploma
Certified​ Animal First-Aid (BCSPCA Vancouver Regional Branch, Humane Education Centre)
Pet Massage Therapist (PetMassage™)
Pawspoint Reflexologist (TouchPoint Inst. Reflexology & Kinesthetics)
Dog Trainer (North America's first Gov't Certified Dog Training Academy)​​
HISTORY
Owned/operated four successful Dog Grooming businesses from 1985 to present.
​Danielle's dog - Wodan Von Mazeru (Dune) excelled in the Toronto Police Force, riot squad.
Pet care columnist. See reprinted articles from Petigree Magazine and Modern Dog Magazine, on website Blog page.​ ​
​AWARDS
4x Awarded - Best Dog Grooming and Service Excellence​​
Canadian Achievement Award - Pet Food Retailer of The Year
A-List Favourite - Pet Groomer Award
Chamber of Commerce Nominee - Business Excellence Award
Numerous Community Achievement and Service Recognitions ​
​​Danielle's continuing education & community service portfolio is available to view at the Studio, upon request.
INDUSTRY AFFILIATIONS
International Society of Canine Cosmetologists - Lifetime Member
Society of Holistic Pet Stylists - Pivotal Member
---
Danielle with her dog, Uro Von Bullinger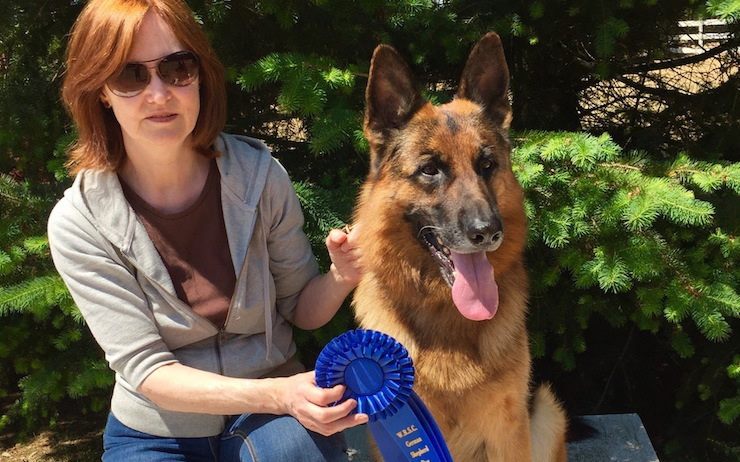 ---
DOG GROOMING​ ETHICS
​MY JOURNEY:
​I am highly committed to advanced, continuing education in the pet styling and pet care industry. This is represented through numerous workshops, advanced symposiums, and educational seminars.

MY PROMISE:
​To conduct my business fairly, honestly, and with integrity. To humanely and compassionately care for all animals entrusted to me.
---